Auto Accident Care at
SouthWest Chiropractic
We create an atmosphere of healing for your body and your mental state after going through trauma. We'll help you get back to your better self!
When you're involved in a motor vehicle collision the trauma that your body experiences is often more significant than what the accident seems like it should be. What our bodies go through when we're involved in that type of trauma lead to a multitude of musculoskeletal complaints. These include whiplash, headaches, muscle stiffness, neck, shoulder and back pain, inflammation and more.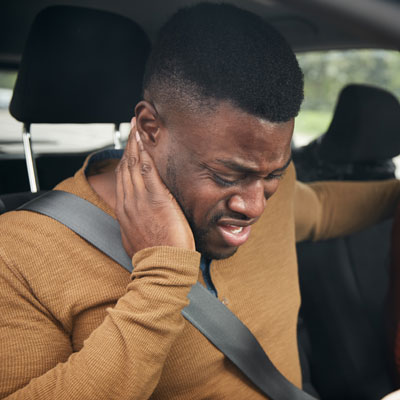 'But It Was Just a Fender Bender'
A lot of people have the misconception if they were involved in a minor accident such as a fender bender then they're likely okay. Even if you're driving at a low speed your body can still sustain damage, including whiplash. That's why it's vital to seek out treatment as soon as possible.
Another reason why you should be evaluated following a motor vehicle collision (MVC) is because you can develop symptoms days after your incident, that you didn't even realize were there due to the traumatic process that occurs following a MVC. Chiropractic care can address smaller injuries before they develop into potentially lifelong ones that can negatively impact your quality of life.
If you get care from a medical doctor after an auto accident, you'll likely be handed a prescription for a painkiller. Given the massive opioid problem in our country, going that route can be devastating for many people, especially those who are susceptible to addiction.
The good news is chiropractic and our other natural healing modalities are natural and free of any potential serious side effects. We offer the following:

The reason many people seek chiropractic care after an auto accident is because we're musculoskeletal pain experts. We are the people that are going to help you get back to doing the things you want to do and get you through the trauma of your injuries and your accident.
What we're finding is that when people don't take care of their bodies, not only is their lifespan shortened, but their health span is shortened. What that means is they don't get to do the things they loved and enjoyed doing as they age. The good news is that by taking care of your muscles, joints and soft tissues in your body, we can create sustainability for you so that you can live and have health longevity and movement longevity. Who wouldn't want that?
What to Bring to Your Appointment
Please bring the following to your initial appointment:
Your insurance adjuster's contact information
The case number
Your lawyer's contact information (if you have an attorney)
What to Expect at Your First Visit
You'll be given some paperwork to complete which will ask for details about your accident. Next, your chiropractor will perform an exam to get a better look at the injuries you've sustained. We'll test your flexibility, range of motion and strength.
A detailed care plan for your recovery will be provided.
Frequently Asked Questions
Is chiropractic care safe after an auto accident?
Yes, chiropractic care is highly safe and effective. Our doctors will use gentle and non-invasive techniques to adjust the spine and restore proper alignment.
Would you send me out to have X-rays or an MRI taken?
Yes.
Once I get under care how long will it take for me to recover from my injuries?
It depends on your particular case, including the extent of your injuries. It also depends on how you respond to your care. We will work with you to set goals of care and develop a clearly planned out timeline to achieve them.
Book an Appointment
If you've been involved in an auto accident, please seek help right away. Contact us today to schedule an appointment.
CONTACT US

Auto Accident Chiropractor in Eden Prairie MN | (952) 943-1188