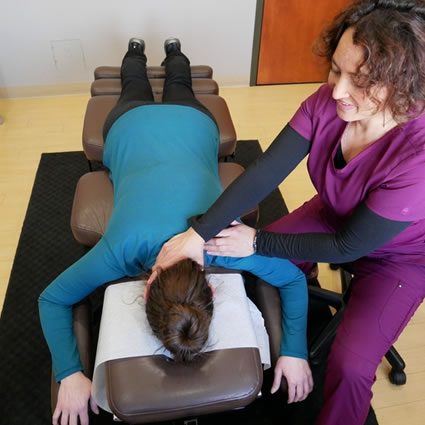 SouthWest Chiropractic Testimonials
What Our Eden Prairie Patients Say
At SouthWest Chiropractic we love when patients share with us their feedback and comments after chiropractic care. Please read our patient testimonials below to see what other people have achieved through their tailored treatment plans with us.
Share your stories too! Click here to send us your feedback so that we can help to spread the word about the benefits of natural SouthWest Chiropractic care.
For more information or to schedule an appointment call or email us today.
CONTACT US »


SouthWest Chiropractic High-Intensity Laser Really Works!
I've been dealing with low back pain for 6 years. After the first treatment, I had 24 hours of relief from my pain. The staff kept encouraging me that each session would result in deeper healing and extended relief. Sure enough, after the 5th session, I was almost pain-free. Most days I don't even think about my back. Before treatment I could not sleep through the night and sitting was always uncomfortable. I continue to go for maintenance treatments for my back which continues to feel great! I have now started treatments for my neck, which recently flared up. I'm hoping for the same magic!
– Colleen M.
Pain is Finally Reduced After 6 years of Other Specialists!
Dr. Sharena Deonarain is amazing. She listens to my concerns and always has a treatment plan for me. Her knowledge and enthusiasm to help me heal has reduced my back pain to a point where my pain isn't controlling every aspect of my life. After 6 years of orthopedic doctors, numerous physical therapy sessions, pain management specialists, injections, neurologist visits, and pain medications, she is the only doctor who cared about reducing my pain!
– Gerry H.
Best Acupuncture
Dr. Sharena was amazing! I have always seen her for her adjustment skills and acupuncture ability. Bar none, the best acupuncture I have ever had! However, recently, I saw Dr. Sharena for her craniosacral therapy (CST) which is a gentle hands-on technique that uses a light touch to examine membranes and movement of the fluids in and around the central nervous system. It was so helpful. Besides being an amazing chiropractor, she has such beautiful energy! So lucky to have found such a talented and kind professional!
– Deno H.
Feel Stronger, Healthier, Better and More Knowledgeable
Over the years I have seen doctors and therapists from multiple specialties for my neck and back injuries to the point where I began to think that I had to accept a new norm in regard to my mobility and nagging pain. I was lucky enough to get an appointment with Dr. Deonarain one day and everything changed. She treated me with a combination of chiropractic care and acupuncture, and I was taken back by her level of skill and professionalism. It is balanced with an immense knowledge of whole-body healing that helped me feel better in ways I didn't realize I needed. Dr. Deonarain has a natural approach of teaching and healing that not only educates you, but makes you feel instantly comfortable. I feel stronger, healthier, more knowledgeable and better than I've felt since before my injuries. If you are like me and don't want to accept a new norm, go see Dr. Deonarain. If you have new pain that you've never experienced, go see Dr. Deonarain. If you are curious at all about chiropractic or acupuncture treatment, GO SEE DR. DEONARAIN. I promise you will be thankful you did.
– Curt R.
Optimal Health
Do you want optimal health? If so, I would encourage you to consider chiropractic medicine. While I have a chronic condition of 25 years duration, regular treatments have kept me mobile, more balanced, and in far less pain. Chiropractic medicine is not invasive, it does not drug you, but will leave you with a better sense of well-being. That has been my experience since coming to SWC these past 15 years. Even when I helped with the care of an aging parent in IN, I continued chiropractic care, albeit not with my favorite doctor. However, on my return to MN, I immediately went back to SWC. These practitioners are two of the best in the country- using innovative therapies, truly caring, professional and forward-thinking. If you value your health, I believe you owe it to yourself to give SWC a try.
– Beatrice V.
Laser Therapy Exceeded Expectations
SouthWest Chiropractic laser therapy exceeded my expectation on the treatment of my knee. I thought there would not be a viable treatment other than knee replacement. I was experiencing swelling and arthritic pain even when I was not active. After several treatments I began to experience reduced swelling and much less joint pain. By the end of my treatment I was experiencing little or no pain and swelling. It allowed me to walk without pain most of the time, except for extended periods of time on my feet. I continued with monthly treatments up to the time I had a partial knee replacement. After the partial replacement I used the laser therapy to help with healing and prevent further joint deterioration.
– Tim M.

SouthWest Chiropractic Testimonials | (952) 943-1188