Massage Therapy at SouthWest Chiropractic
In today's busy and stressful world, we all need to relax a little more. At SouthWest Chiropractic, our massage therapists will tailor your session to address your unique problems. Therapeutic massage goes deep into muscle and connective tissue. The benefits you'll experience include improved pain levels, relieved muscle spasm, increased flexibility and a greater range of motion. You'll also feel less stressed, and your anxiety will decrease, enhancing your quality of life.
Our Massage Services and Products
You can choose to have a massage for 30, 60, 75 or 90 minutes. Our broad variety of massage techniques includes
Cancer/oncology
Cross-fiber friction
Deep tissue massage
Hydrotherapy
Myofascial release technique
Prenatal massage
Sports massage
Stretching technique
Swedish massage
Therapeutic massage
Trigger point technique
For your safety and greatest benefit, we exclusively use Biotone Pure Touch Organic's product line during our massage therapy sessions. CBD products are also available for your massages.
Meet Our Massage Therapists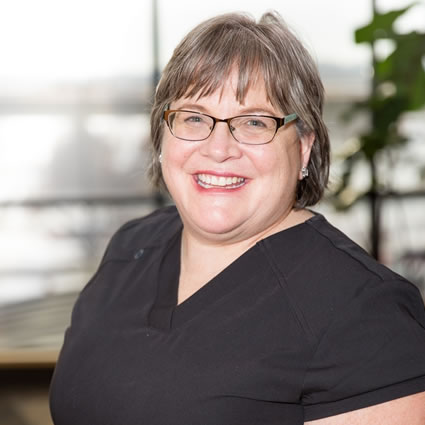 Elaine is a certified member of ABMP (Associated Bodywork and Massage Professionals). She earned her certificate in Therapeutic Massage from National American University and was certified through FSMTB (Federation of State Massage Therapy Board). She has been a nanny, a teacher, and an in-home daycare provider, finally becoming a massage therapist in 2014.
Throughout her career changes, she has been focused on the well-being of children. Now, as a CMT, Elaine concentrates on providing healing, pain relief, relaxation, and emphasizing self-care to her clients. She specializes and is certified in Swedish, deep tissue, hot stone, and prenatal massage with her myofascial release training through John Barnes.
Know that as your massage therapist, Elaine will listen and prioritize your goals and create a care plan that combines techniques that will provide the best-individualized therapy to help heal, balance and relax you.
Our Availability
You can book a massage on Monday, Tuesday, Wednesday, Friday or every other Saturday. Contact us today to schedule your session for massage therapy Eden Prairie!
CONTACT US

Massage Therapy in Eden Prairie MN | (952) 943-1188